And unlock the value of idling capacity of your space and business operations!
This unique convenience focused co-working concept, known as CoworkCafe, was created from the perspectives of the co-founders, a freelance mobile worker and restaurant owner.
CoworkCafe is a revenue sharing platform concept for food service establishments and other unique spaces to make money from their existing space. We empower business owners to use their idle space and existing assets in a way that was never possible.
CoworkCafe utilizes a shared economy approach by partnering with your business to provide a uniquely defined workspace for paying members that are local freelancers or entrepreneurs. Individuals sign on as members, month to month and work or have meeting from your business while purchasing food or services.
We market your business on an ongoing basis to the local community to draw more attention to your establishment and growing your day time and night time revenue
Each new CoworkCafe location will represent a unique casual workspace design, with members from diverse industries and backgrounds. CoworkCafes are fun, casual and secure workspaces for local freelancers and entrepreneurs that like to work around other people, but away from home distractions. The cowork environment is lively but conducive towering and hosting meeting
Why Consider adding a CoworkCafe Plug-in?
The talented team at CoworkCafe have built:
Without changing the feel or look of your space, we will work with you to create a workspace that fits within your business and day to day operations.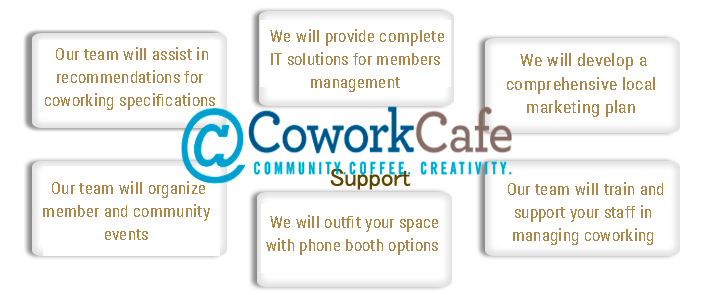 There are many important differences that highlight the advantages for customers working at CoworkCafe, here are some of them
Change of perspective
Community
Collaboration and motivation
Food and beverages prepared and brought to you
Reserved seating, parking
Fast, reliable, & secure Internet
Plenty of outlets
Secure workspace
Office accessories (printer, scanner, shredder, etc)
Private booths for phone calls
Convenient location & easy access
Low membership costs
All inclusive plan
Relaxed environment
Food and beverage service
No long term contract
Free Guest access policy
To find out more or to begin the process of joining our partner program, please
fil out the following from and someone will be in touch with you to answer any questions or email us at hello@coworkcafe.com